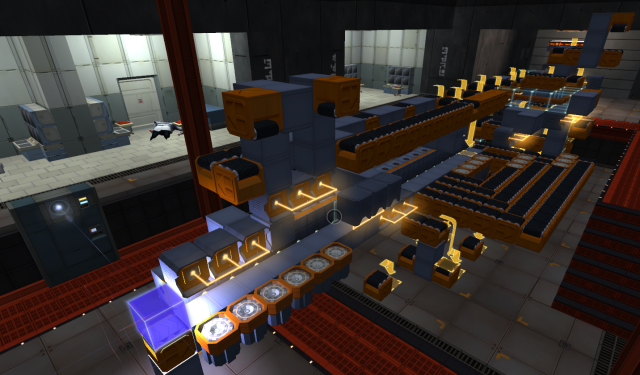 This is an image-heavy post.
I love Zachtronics. One of their games is Infinifactory (Trailer), a 3D puzzle game where you assemble blocks to form a certain product.
One of the later levels of the game is called "The Big Blowout" (Resistance Campaign → The Heist → The Big Blowout) in which you assemble a bomb-like device that looks like a hollow cube. It's quite difficult to assemble.
I had stopped playing the game a while ago, but someone in my Steam friend list recently asked to see my solution for this puzzle, so I recorded some GIFs using the game's built-in GIF recording feature. This made me re-discover the solution and I thought it was pretty cool so I'm posting it as a blog post.
Solution stats: 327 cycles, 309 footprint, 386 blocks. This is not the best. Here's someone smarter than me doing it in 276 cycles.